Contact Us

Damon Glass Co.
1229 Jensen Drive, Ste 101,
Virginia Beach, VA 23451


Damon Glass is a glazing contractor only, we are not a Hampton retail glass shop.
Custom Shower Enclosures in Hampton
Our Hampton residential glass specialists are experts in heavy glass shower enclosures and custom mirrored walls. Enhance the elegance and sophistication of  your bathroom with a custom high-quality glass shower enclosure to match the beauty of the rest of your home. Whether you are in the middle of a new build or remodeling an existing space, Damon Glass is here to help with expert advice, superior long-lasting modern materials, and years of experience.  We are professionals you can trust.
Damon Glass strives to provide excellent customer service and superior craftsmanship throughout each and every project we do.
We specialize in:
Custom Shower Enclosures in Hampton
Custom Glass Enclosure Design
Glass Enclosure Fabrication
High-End Installations
Framed and Frameless Glass Enclosures
Mirrored Walls
Shower Door Installs
Heavy Glass Enclosures
Decorative Glass Panels
Shower Glass Hampton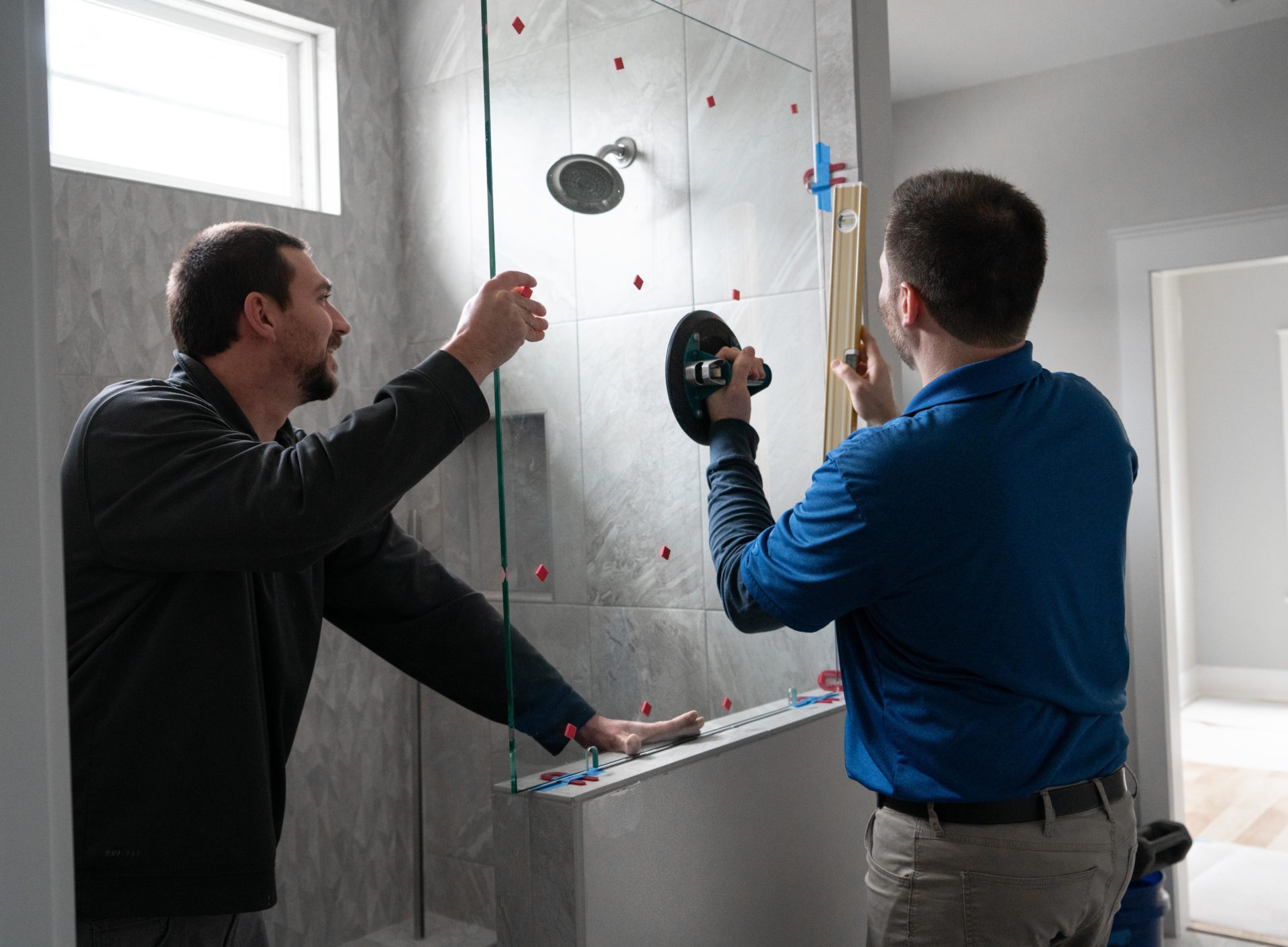 Damon Glass has been serving the Hampton area with high quality glass solutions since 2013. Our mission is to maintain the highest level of craftsmanship and have exceptional lead times.
Interested in custom glass enclosures?
Simply call Damon Glass to schedule an on-site custom glass shower consultation in the Hampton area.
One of our custom glass experts will work with you to determine the glass color, height, placement, and hardware that will turn your vision into reality.
After a design is agreed upon, you will be provided with a flat fee quote for the entire job. No hidden fees or surprises.
Once your custom enclosure has arrived at our facility our team will call you to schedule an installation appointment.
Our installation team will install your custom enclosure and ensure you are 100% happy with the finished product.
Some important information you need to know before you contact our custom shower enclosure professionals.
Please make sure you have the correct materials for us to mount your high-quality glass and glass hardware to.
Your walls must be tiled. We will install onto tubs and fiberglass floor pans, but the walls must still be tiled.
Damon Glass no longer installs into fiberglass wall surrounds. This is to ensure a nice and secure fit of your glass hardware to the wall for both your safety and for the highest quality craftsmanship that will last a lifetime.
For an order to be placed all tiling must be complete and curbs/caps installed. If in the event your tiling in not finished when you need an estimate for your project, that is not a problem at all. Damon Glass is certainly willing to meet before your tiling job is finished, just please note that we will only be able to provide a general "ballpark" price until the tiling job is 100% complete.
A Large Variety of Custom Options
Damon Glass is here to help bring your high end custom shower enclosure in Hampton come to life! Whether you are doing a first time build or a remodel to a preexisting bathroom, we have the knowledge and technical expertise to complete your job to the highest standards in a timely manner.
We work with a large variety of glass options, colors, and textures so that you have more choices to choose from for your project. Pair your glass with any combination of our high end handles, rails, and hinges to suite your needs. All of our hardware is available in a variety of finishes that are hard wearing to keep up the look and quality feel of your custom shower enclosure for years to come.
Damon Glass of Hampton recommends the signature Guardian ShowerGaurd protective coated glass and Ultra-Clear Low Iron Glass options to elevate the look, ease the amount of maintenance, and extend the life of your glass to help ensure that it stays as beautiful and clear as the day it was installed.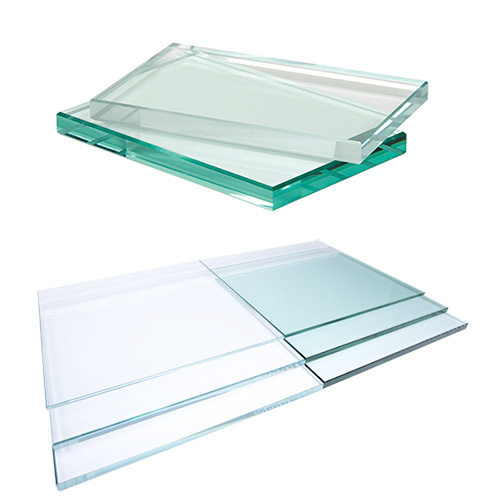 Ultra-Clear Low Iron Glass vs Standard Clear Glass
Not all glass is created equal.
Most people do not understand that there are different qualities of glass. There are different thicknesses, densities, textures, and clarity that distinguish one type of glass from another.
But clear is clear, right? Wrong.
Glass is made up of many different components based upon the desired result. With that said, the main ingredient used to make glass is silica (sand) and depending on what type is used, the chemical composition of the silica will differ. In standard glass the silica typically contains a higher iron content which gives off a green pigmentation. For the most part this pigment is not noticed however the edges will have a very noticeable green tone from almost any angle, especially in thicker glass. To give you the best result with a true-to-view look and beautiful frameless glass enclosure results, we use high-end Ultra-Clear Low Iron Glass that does not contain the undesirable green pigment. The difference is clear between standard glass and Ultra-Clean Low Iron Glass as you can see in our visual examples above.
Show off tile, tub, and fixtures with ShowerGuard UltraClear in your shower enclosure. Utilizing ultra-clear glass for a stunning effect, ShowerGuard UltraClear neutralizes the green cast of standard glass for a crystal clear result that lets the design and color of your bathroom shine through. This glass loves natural light and visually opens your space like no other.
With its ultra-clear edges, ShowerGuard UltraClear is ideal for clear, frameless shower enclosures and is available in 3/8″ and 1/2″ thicknesses. Please view actual glass size and thickness for accurate edge color.
Have a question about the difference between these two types of glass? No problem. Ask one of our professionals at Damon Glass for a demonstration on the clear difference between Ultra-Clear Low Iron Glass and Standard Clear Glass today. 
Guardian ShowerGaurd Protective Coating
The difference is clear with Guardian ShowerGuard protective coating. This proprietary coating permanently seals off and smooths out the microscopic pores, valleys and peaks in the natural surface of your glass. The result is an invisible protective barrier, applied before the tempering process, that bonds to the glass surface making it less likely to wear and discolor over the life of your glass leaving you with long-lasting beauty in your Damon Glass designed and professionally installed custom glass shower enclosure.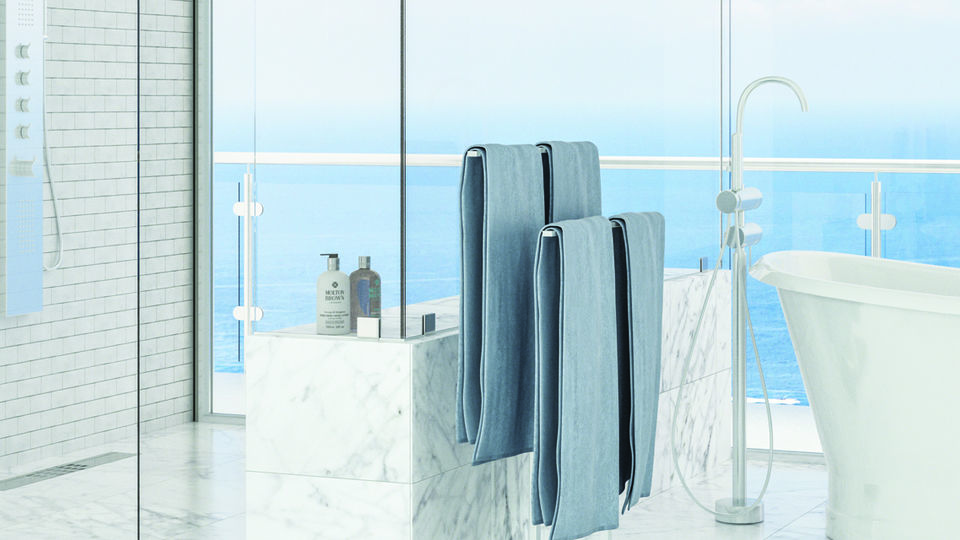 Why Choose ShowerGaurd Coated Glass for your Hampton Home?
With the Gaurdian ShowerGaurd coating you will not have to worry about the typical staining from soap scum build up and water spots because the protective layer helps battle the harsh conditions of heat, humidity, hard water, and cleaning agents which can result in unwanted glass etching, pitting, and surface wear. These wear spots give soap scum, dirt, and debris the jagged surface they need to hold onto resulting in your glass surfaces having a dull and cloudy look.
Compared to untreated glass, Gaurdian ShowerGaurd requires significantly less maintenance than standard glass and will keep its cleanable qualities for life without the need for any reapplication like other spray solutions. The protective barrier will never break down, guaranteed. In fact, it is backed by a robust lifetime limited warranty, giving you the peace of mind that you made the right choice in your investment.
Caring For Your ShowerGaurd Glass Is Easier Than Ever.
With a few simple care tips during your cleaning routine, you can keep your custom shower glass enclosure looking as beautiful and clear as the day it was installed by Damon Glass.
Simply remember to use a soft sponge with a non-scratch surface along with a mild non-scratch, non-corrosive household cleaner ( which can be found at most grocery and hardware stores) and lightly rinse with water when you are done to remove any leftover cleaner from drying on the surface of your glass and you can keep the beauty of your custom glass shower enclosure going for a lifetime. It is really that simple!
Glass Color Options
Each project is unique and the styles and materials used in your custom glass enclosure may be a little different than what other clients may want. With Damon Glass, that is never a problem.
We offer a large variety of glass colors, treatments, and texture options so that you are not limited in your imagination. From Ultra-Clear Low Iron Glass to frosted or flame – we have a high quality glass solution for you.
Not sure what might fit best in your space? Ask one of our professionals when they come to do an in-person consultation and estimate.
Handles and Hardware Styles
Custom glass enclosures are exactly that – custom. That is why Damon Glass utilizes a large array of quality, long-lasting, and low wearing hardware options that will help match the floor plan and style of your Hampton custom shower enclosure.
Our hardware allows for different thicknesses of glass, mounting options, hinges, angles, and looks so that we can ensure a quality job that matches the look and feel of your existing space.
For more information on what is available for your project or to have a free consultation on design options at your home, please contact one of our experienced glass professionals today! 
Handle and Hardware Finishes
Your custom glass shower enclosure should seamlessly match the elegance of your Hampton home and plumbing fixtures. For that reason we offer a variety highly durable finishes to compliment your space.
Our current finish line up includes:
Brushed Nickel
Gold
Oil Rubbed Bronze
Matte Black
Polished Chrome
Polished Nickel
Do you have a project that needs our services?
Contact us today for a quote!